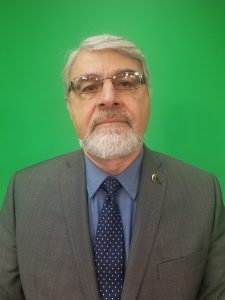 Secretary
Mr. Garakanian, the VP of HSC, has over 30 years of experience ininstrumentation and control, data acquisition systems, real time software development, electronic testers, electronic product design, development and commercialization and engineering research and development.
Mr. Garakanian formed Hybrid Systems Corporation (HSC), as one of the two co-founders of the company. Mr. Garakanian supported the development and commercialization of a suite of SCR phase-angle controlled brush DC motor speed controls. These speed controllers are sold in the sporting equipment manufacturing industry.
Mr. Garakanian led the development and delivery of an automated test and quality-assurance systems for HR Textron Company of Valencia, CA. for the JDAM missile's fins' digital servo motor testing.  The system would completely exercise the servomotors and angular torque and velocity. Contouring was logged and complete reports were generated with the push of a button.
In addition, Mr. Garakanian collaborated with the P.L. Porter company in developing aircraft passenger comfort units (PCU) for business and first class seating. PCUs were multi axis DC brush motor based actuators that offered simultaneous and synchronized motions to launch the passenger seat, lighting, video and tray in specific programmable configurations for added convenience.
Mr. Garakanian additionally introduced MARK II shrink machine as a very cost-effective product for the machine tool industry.  This is an induction coil based product with 10KVA capacity that can heat up machine tool holder collets in less than 4 seconds for tool extraction or insertion, still in production.
Prior to HSC, Mr. Garakanian was a Senior Project Engineer at Nucleonic Development Company (NDC), Irwindale, CA. He was responsible for sustaining existing NDC measurement gauges and improving manufacturing processes.  NDC measurement gauges are used in the thickness measurement industry for paper, plastic, electronic components, etc. The gauge utilizes a probe that has an Americium 241 based nuclear source.  The accumulated counts of Gamma Photons, was used by digital signal processing to relate it to the thickness of the specimen.  Mr. Garakanian, after 2 years, was transferred to the research and development department of NDC where he was in charge of the Gauge on Card (GOC) electronic board development with gamma photon energy discriminators level hardware and fast totalizing counters for number crunching and processing of the input signal.  The GOC board, after establishing a criterion indicating the balanced photon counts around the peak energy level of the nuclear source, would initiate the automatic gain control (AGC) algorithm to maintain the high voltage at the photomultiplier tube at a level to provide a balanced photon count condition. This board mated with a Peripheral Interface Card (PIC) board, offering the user infrared communication with the headsets and other communication interfaces to report printing. The unit was battery operated and also had a built in battery charging circuitry.
Prior to NDC, Mr. Garakanian was a project engineer responsible for systems design and development at John Fluke Mfg. Co. He designed and developed measurement systems that had applications in missile testing, radar imaging of aircrafts, aerospace payload simulated launches, digital geared servo motors and drives testing, used in missiles and other applications.
Prior to John Fluke, Mr. Garakanian was a manufacturing engineer at Universal Oil Products (UOP) of Des Plains, Ill., the primary goal was to improve oil and biotech processes, using proprietary catalysts manufactured at UOP.  One key parameter to study was the life of catalysts in an accelerated life-cycle test where years of life are reduced to only 6 months with unusually adverse conditions imposed on the process.  Mr. Garakanian was the lead engineer in developing a benchtop-scale plant for starch liquefaction,
This benchtop-scale plant required multiple temperature, pressure and flow sensors to automate its continuous unattended operation.  Mr. Garakanian developed computer programs using real time operating systems for specific tasks of over 12 different pilot plant automation, using several centralized HP1000 data acquisition systems. Instrumentation selection and signal conditioning of various measurement signals further required data acquisition systems, and configuration, using equipment from John Fluke Mfg. Co., Hewlet-Packard, Tektronix and Philips. Communication standards such as IEEE488 and serial differential mode RS485 were commonly used between data acquisition systems and localized sensor modules.
Mr. Garakanian has a B.Sc. in Chemical Engineering from Abadan Institute of Technology with a minor in Electrical Engineering.  Mr. Garakanian performed M.Sc. graduate studies at University of California, Davis, in Chemical Engineering.  Mr. Garakanian expanded his academic engineering experience into computer science and electrical engineering by attending Illinois Institute of Technology in Chicago, Illinois.
Mr. Garakanian is an active member in the southern California Armenian community. He was a founding member of the HOMENETMEN chapter of La Crescenta created in 1995.
He is, also, a lifetime member of the Armenian Engineers and Scientists of America, Inc. (AESA), and has served in various board positions of the organization during the last 31 years of service. Mr. Garakanian served as President of AESA in 2016 and was the recipient of the AESA Service Award in 2019.