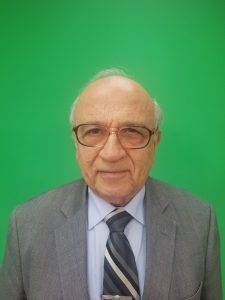 Vice Chairman
Hagop Nazarian was born in Aleppo, Syria in 1937.  He has a Bachelor's degree in Civil Engineering from Indiana Institute of Technology and a Masters degree in Structural Engineering from the University of Cincinnati.  He is a registered Civil and Structural Engineer in the state of California.
From 1963 through 1986 Mr. Nazarian has worked for the Southern California firm of Whitman, Atkinson and Assoc. of Pasadena, C.F. Braun of Alhambra, Agbabian Associates of El Segundo and Bechtel Power Corp. of Norwalk, California.  In 1986, he founded Nazarian Engineering, a Structural Engineering firm, in Torrance, California, that continued to provide engineering services until 2011.
Employment with Agbabian Associates included the evaluation of "Safeguard" structures for ground and air blast effects, studies of facility subsystem concepts for advance missile programs and design of rocket test structures.  While in the employment of Bechtel Power Corp. he participated in the design and supervision of nuclear power plants including San Onofre in California, Vogtle in Georgia, and Kuosheng in Taiwan.
From 1986 through 2011 Nazarian Engineering services provided evaluation and seismic strengthening of many buildings and bridges including: (1)  Seismic upgrading of buildings, equipment and support for Goldstone Deep Space Communication complex, (1990), (2)  Lockheed Burbank and Palmdale facilities consulting, (1988), (3)  1994 Northridge Earthquake damage reports for 120 residences, 18 apartment buildings and 8 commercial buildings. (4)  Long Beach Freeway bridge retrofit at LA river crossing, (1992).  (5)  Consulting Services for LA School District for 4-year program to install TV monitors and supporting equipment with fiber optic cables and seismic bracing.  (6)  Preparation of hundreds of PML (probable maximum loss) reports for banks and insurance companies to support financing large projects (example:  Staple Center in downtown, LA)
Projects in Armenia:   (1)  Complete design of five-story business center building for the American University of Armenia located on Manougian Street, Yerevan, (1997).  (2)  Seismic retrofit and addition to the wellness center building located on Mekhitar Heratsu Street in Yerevan.  (2004).  (3)  Redesigned standard Kindergarden building to be built in 100 locations in Armenia,  (1990),  (not implemented).  (4)  Preliminary planning to strengthen 1000 high rise buildings in Yerevan, (1994).Estimated budget of $250 million to be provided by the World Bank.
Mr. Nazarian has been a member and held various positions in the following organizations: ASCE, SEASC, Sigma Xi, ACI, AISC, APS, AESA, TCA, and  ADLP.  He is a founding member of the Armenian Genocide Martyrs' Monument in Montebello, The chairmanship of Tekeyan Cultural Association of LA in 1970 and 1976 . The AESA Chairman in 1995, and earthquake safety committee director from 1992 through 1998.
Because of his dedication to his profession and Armenian community programs, Mr. Nazarian has received many awards and recognitions including: Bechtel Corp. Award of Merit in 1974 and 1980; Included in Who's Who of Marquis Publication in 1978, 1979, 1980, and 1981; AESA Presidents' Award in 1975; 2013 Distinguished Professional of Orange County, by Christopher Cox, O.J. Congressman; Award of Merits and Recognition, TCA,   ( 1970, and 1976), AGBU, Benefactor member (1991); Dedicated service to ADLP, (2008, 2014, 2013), Hayrenig Organization, (2015) for dedicated service and contribution to the construction of the Montebello Armenian Monument; Certificate of Appreciation for 50 years of dedicated service to the engineering profession and  the state of California, 2017, by the Board of Professional Engineers of California.
PUBLICATIONS & WORKSHOPS
"Earthquake Induced Lateral Soil Pressures on Structures", ASCE Journal of Power
Division, 1979.
"Water Well Design for Earthquake Induced Motions", ASCE Journal of Power Division,
1973.
3)      Fallout Shelter Analysis, Ninety Page Booklet, 1970, Bechtel.
4)      AESA Earthquake Safety Committee, Technology exchange   Seminars and Workshops
in Armenia,  1989.
5)     "Design of American University Center of Armenia", Presented in Armenia, 1998.
6)     "Overview of Seismic Strengthening Techniques used for Structures", Presented in
Armenia, 1993.
7)     "Earthquake Hazard Mitigation Plan for Yerevan, Armenia", Presented in Armenia,
1996.
8)     Pan-Armenian Ideology Booklet, (2014).
9)     Pan-Armenian Ideology Workshop #1 Booklet, (2016).