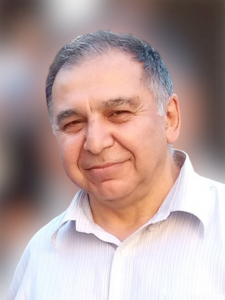 Public Relations Officer
Tigran Harutyunyan was born on May 17, 1961 in Yerevan.
In 1978 he graduated from the N143 middle school of Yerevan and got accepted to the Faculty of Physics at Yerevan State University. Then, he was transferred to the Division of Philosophy of the Department of History at the same university and graduated from the Department of Philosophy and Sociology of YSU with honors in 1983.
In 1986 he received his PhD from the Institute of Philosophy and Law of the National Academy of the USSR and started working as senior lecturer at the department of philosophy of the National Academy of USSR.
In 1988 he worked as associate researcher at the Institute of Philosophy and Law of the USSR National Academy.
In 1997 he defended his dissertation and received the ranking of a "candidate of philosophical sciences" (PHD).
In 1991 he founded the "Noyan Tapan" Media Holding  and was general director of the center until 2008.
2008-2011 Head of Informarion and Telecominication department of Ministry of Diaspora RA.
2011 to now President of the "Noyan Tapan" Media Holding.
Tigran Harutyunyan lectures at the Yerevan State Linguistic University.
In 2007 he was elected chairman of the "All-Armenian Media Association".
2014 to now Director of Fund "Noyan Tapan" for the Advancement of Science, innovation and perspective development.